.
Website Rating Plug-in Reviews
There are a few third party utilities which regularly test and rate websites. They offer browser plug-ins that display the latest site status and test dates right on the browser.
Once installed plugins show a convenient status at the top of the browser. There are only three website rating plugins. Each takes a different approach to rating.
Drill down into each of the following to see more details
blog comments powered by
Learn to Make Strong Memorable Passwords Today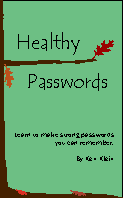 ISBN: 978-0615456850