.
WOT Web of Trust Website Rating Plug-in Review
Web of Trust
Web of Trust (WOT) has been around for several years. While McAfee has a very centralized testing approach, which is mostly done by them. WOT uses crowd-sourcing to enlists a community of rating volunteers . This means that WOT can rate sites faster, but their rating could be based more on opinion rather than objective fact. The higher the number of raters, the more accurate their rating will be. The WOT plugin can be downloaded from www.mywot.com.
WOT is a browser plug in, which displays site safety rankings using a color code system for safe (Green), caution (yellow), warning (red), and unknown (grey).
This utility offers configuration allowing users to enable parental controls, basic and light security settings are available for adults. WOT also offers a color blind version.
It runs in Windows, Mac, and Linux. For Windows it has plugins for Internet Explorer, Firefox, Chrome, Opera, and Safari. For Mac it has plugins for Safari, Firefox, Chrome, and Opera.
WOT is free for home users.
blog comments powered by
Learn to Make Strong Memorable Passwords Today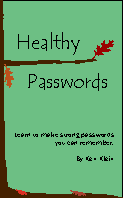 ISBN: 978-0615456850