.
Mozilla Announces BrowserID - Single Password Authentication
Date: 2011-07-15 10:08:18
Yesterday Mozilla, the same organization that produces FireFox, announced a new authentication service called BrowserID. This is a service similar to OpenID, (See What is OpenID), but slightly different.
Rather than a user proving they have control of a website, as OpenID does, BrowserID uses email. According to Mozilla: "a very simple web-centric binding to a well-understood identity token. Specifically: this proposal defines a way for a user to prove to a website that they control an email address."
As promising as OpenID has been, it's use of a website has proven too difficult for most users. Our first thought was that email is too insecure as a means for authentication, but as Mozilla points out, a user may choose an email provider which offers more security. For example, if you use an email provider offering multi-factor authentication (See What is Multi-Factor Authentication), you end up with a very secure solution.
It's ironic that every scheme to end passwords creates another password. One key difference between authentication providers like BrowserID or OpenID and password managers is that they truly eliminate a password for each configured site. You still have profiles at those sites holding your personal data, but those sites will just keep your ID and not require a separate password. Password Managers (lastpass, keypass, 1password, etc) actually just create a new password and let you forget about all the others, but behind the scenes you still have a huge keychain with all your passwords. Mozilla's offering permanently removes keys from your keychain for every configured site.
Category: Authentication
Subcategory: Passwords
blog comments powered by
Subscribe in a reader
Don't become a news story...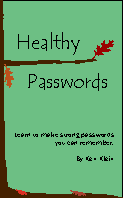 ISBN: 978-0615456850
Knowledge is the best home security.