.
IOS Password Snooping App
Date: 2011-07-15 21:05:06
Here's an interesting article on PCWorld.com abount IOS password entries. The on-screen keyboard lights up when keys are pressed making it impossible to hide a password as you type it. An app has been made to use your ipod's camera to record another users keyboard entry to steal their password.
PCWorld - July 15, 2011 - iPad App Reads Passwords, Exposes Flaws in Asterisk Protection
Category: Vulnerability
Subcategory: IOS
blog comments powered by
Subscribe in a reader
Don't become a news story...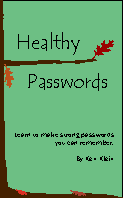 ISBN: 978-0615456850
Knowledge is the best home security.