.
Live CD Distributions
The best protection for on-line finance is to boot from a live CD. This is slow and not convenient, but a non-writable operating system, is the best protection. Non-writable operating systems do not change. There is no way for malicious programs to get onto the CD. Every time you turn it on, it reverts to its original state.
Getting one of these to work is a hit-or-miss proposition. If you are comfortable with burning Cd's and DVDs, you can download free Live-Cd's. If you are not comfortable, making your own, go to the local bookstore and buy one or two Linux magazines with "Live-Cd's" included. Just keep in mind that many live-CDs will run, but they may do so very slowly.
Be careful
Just searching for live-CD may provide distributions which are questionable. Distrowatch.com is generally a good place to get downloads from. If you feel the slightest bit intimidated about finding your own distribution, it is suggested to follow the links here to purchase the CD from the distribution creator. Doing this will also help them out greatly. The people who put these together put their heart and soul into their work and purchasing the CD from them helps.
Product
Link
Description
Platforms
Price
MAC Pup
macpup.org

Macpup just became our new first choice for browsing. It boots fast. Includes firefox 4 RC1 and easily found our network resources.

The latest distribution is normally named macpup_xxx.iso (currently macpup_520.iso). The macpup ISO is a 160 megabyte download.

Windows, Mac
Free
Damn Small Linux
www.damnsmalllinux.org

Damn Small Linux is still the lightest download which includes a good browser. It comes with FireFox already installed, and it is only a 50 megabyte download. If you can boot it up and it works, great. If however, you need a little tweaking to get it to work, puppy may be a better option, since it has more setup utilities included.

Finding the appropriate download option can be intimidating to the average user. Versions and download sites change rapidly. This distribution is found on many "Mirror Sites". The latest distribution is normally named current.iso. You can purchase it from here: Damn Small Linux purchase page.

Windows, Mac
Free
Puppy Linux
www.puppylinux.com

Puppy Linux has been around for many years. It is one of the lightest (smallest) downloads and because it is a very stripped down version, it offers excellent hardware compatibility.

Currently, the main puppy page normally offers a direct download link. Go to Puppylinux.org and follow the download link.

Windows, Linux, or Mac (Intel) compatible hardware (Note puppy issues on Mac below.)
Free
Mac Book Notes:
When you boot with the live CD in the MAC (Intel), it will not recognize the boot CD. There are two options.

First is to hold down the option key while it is powering up. Keep it held down until you see two icons on the screen. Select the Windows icon then click the little up arrow and it will boot from the live CD.
Second is to go into the system configuration utility / startup disk and select foreign OS on CD-ROM as the startup disk. You may have to have the boot-able CD in the optical drive for this option to be available. When you restart, it will boot to the CD. To get back to OS-X, you will have to hold down the option key after shutting down the live CD.

MacPup is also our first choice for Intel based Macs. On our mac-book macpup booted perfectly, recognized the keyboard, loaded and connected to our WPA/2 wireless network. FireFox 4 RC1 loaded and pulled up web pages with ease. The only issues we had was the mouse was not recognized so we had to use a USB mouse.

Installing Puppy Linux on a Mac-book worked flawlessly. After installing, I downloaded opera (options are in the latest version to download FireFox, chrome, and several other browsers) and was able to browse the web with no issues. When I shutdown, it prompted me to write the options out to a disk file. I chose to use the small partition that was created with OSX and everything seemed fine. The next time I booted using puppy, it tried reading the saved settings file and error-ed out. I could not boot puppy again. Puppy has an option to write the last settings out to the CDRW. That may be a better option. I wouldn't do this every time, but the first time you may have to get a new browser and setup some network settings, so saving the first one may be helpful.

DSL did boot on the mac-book, but it failed to recognize the keyboard or mouse. Like Puppy, the USB mouse works, so I suspect a USB keyboard will work also. Since DSL comes with FireFox already installed, it may be a better choice.
Learn to Make Strong Memorable Passwords Today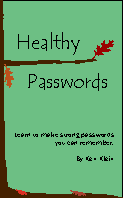 ISBN: 978-0615456850