.
McAfee Site Advisor Website Rating Plug-in Review
McAfee site advisor has been around for several years. You can download it from www.siteadvisor.com.
Site Advisor is a browser plug in displaying site safety rankings using a color code system for safe (Green), caution (yellow), warning (red), and unknown (grey).
This website also offers a view this website rating report link, which anyone can use without installing software.
It runs in Windows, Mac browsers. For Windows, it has plugins for Internet Explorer, Firefox, and Chrome. For Mac it only supports FireFox.
There is no cost for the browser plugin.
Site advisor is the most comprehensive testing utility, but because of it's centralized nature, it is not quick to add/rate sites like it competitors who use crowd-sourcing tactics, but once a site is indexed and listed, users can feel confident that it's ratings are accurate. Because all these utilities are free, there is no reason users cannot use all three simultaneously.
Site Advisor Report Site advisor reports are broken into several categories. These descriptions are directly from the site advisor documentation.
Email Test E-mail is one of the most enduring vehicles the bad guys use to get their hooks into unsuspecting consumers. "Free" product lures, cheap overseas pharmacies, phishing URLs masquerading as real bank sites, and ever present adult material tax your time, your inbox and sometimes even your wallet. The worst of them can lead to identity theft. Our test computers click on these links and register our e-mail at each sign-up we find. We use each test e-mail address once and only once so we know exactly what registration led us to receive a given set of e-mails. Depending upon the type and number of e-mails we receive, we may assign a yellow or even red rating for that site's e-mail handling practices.

Download Test Downloadable files like screensavers, toolbars and file sharing programs can be, or may be bundled with adware, spyware, viruses and other malicious computer code. Sometimes, the malware is added without your knowledge. Sometimes, you click "yes" or "I agree" without reading the fine print. The end result is often the same – a PC that slows to a crawl, a hidden password sniffer that is used to steal your identity, or valuable personal files destroyed or scrambled. We download and install each file we find – we even open zip files. We then scan our test computer to see what changes have been made. If a program is determined to be a virus, Trojan, or certain other types of malware, that program will earn a red rating.

Browser Exploits Browser exploits are known issues that can allow a user to control or harm your system. Site Advisor is the only web rating service that tests for this on the server side.

A browser exploit is a rare but especially nasty piece of computer code that installs itself on unprotected computers, often without a consumer's knowledge. Exploits, sometimes called drive-by-downloads, are one of the key tools scammers use to install keystroke loggers (which can steal your passwords) and Trojan programs (which can turn your computer into a 'bot or slave machine'). We test each site we visit for exploit code using an unprotected computer. If we find an exploit, it always earns a red rating. By letting the bad guys do their worst to us, we prevent them from doing their worst to you.

Phishing Tests One of the most popular weapons scammers have to steal our sensitive personal information – especially our financial information - is the phishing site. These imposters are pixel perfect copies of real sites – typically bank, e-commerce and auction sites – that trick even the savviest users into submitting detailed information like bank passwords or credit card numbers. Once that information gets sold on the black market, consumers can suffer complete identity theft.

We automatically rate phishing sites red and whenever you try to browse to one, we automatically re-direct you to a warning page.

Web Reputation SiteAdvisor ratings now incorporate web reputation analysis from the McAfee TrustedSource(TM) system. This system collects security data from tens of millions of sensors located in more than 120 countries. McAfee's proprietary technology analyzes traffic and linking patterns, website behavior, content analysis, site registration and hosting, to develop an overall reputation rating for the website.

TrustedSource data complements SiteAdvisor software by adding quick response to new threats. When TrustedSource sensors - whether individual computers or corporate servers - discover a risky website, the entire system is updated with this new information.

E-Commerce Vulnerbilities - E-commerce sites are especially attractive to hackers because successful break-ins can lead to a treasure trove of detailed consumer financial data. Hackers then sell that information to scammers who use your identity to buy stuff for themselves! Thousands of the most popular e-commerce sites have signed on with McAfee to conduct daily tests for hacker vulnerabilities. Sites that pass are known as McAfee SECURE sites, which means they are safe from more than 10,000 known hacker vulnerabilities. And that means consumers are less likely to fall victim to identity theft.

Website Annoyances Pop-ups and cookies are a fact of life on the Internet. We test each website we visit for both. Sites with excessive pop-ups or traps that spawn new pop-ups when you try to close or leave the site are rated red. We report our findings about each site's cookies on its site profile page, but do not penalize a site for their presence.

Links (Online affiliations) As Web users get smarter about Web security, the scammers have had to get sneakier about trying to snare you. One trick they use is to set up lots of websites that by themselves are not malicious, but exist just to funnel visitors to an infected download, a spam trap or a drive-by-download site. Using our incredibly detailed database of Website safety, we rate sites red or yellow if we think too many of their links go to other risky sites.
blog comments powered by
Learn to Make Strong Memorable Passwords Today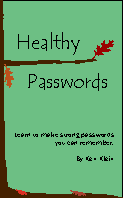 ISBN: 978-0615456850