.
A New Way to Steal Smart Phone Passwords
Date: 2011-10-18 09:54:19
Researchers from Georgia Tech have found a way to triangulate your passwords by using your smart phone's accelerometer. The accelerometer is a sensor that enables your phone's screen to re-orient itself when you turn the phone. According to an article in MIT Technology Review, it is possible for malware to determine your password with 80% accuracy when the password is entered with the device laying on a flat surface.
You don't need to worry yet, but in the near future, it may be "smart" to only enter passwords into your smart phone while holding it in your not-so-steady hands.
Category: Exploits
Subcategory: IOS
blog comments powered by
Subscribe in a reader
Don't become a news story...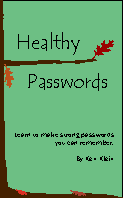 ISBN: 978-0615456850
Knowledge is the best home security.