.
Webutation Website Rating Plug-in Review
Webutation is primarily an aggregator, meaning they combine results from various sources. They also accept user submitted ratings of sites, which makes up 20% of the score.
Webutation is a German website that's been around for more than one year. The site is ranked as one of the top 10,000 websites by website rating company Alexa, which is impressive. Webutation has one tarnished record with Google's Safe Browsing over the past 90 days. Interestingly, when you look up their own record on their own website, their Google safe browsing score is Green. You can view their Google safe browsing score at http://www.google.com/safebrowsing/diagnostic?site=http://www.webutation.net.
Webutation ranks sites on a zero to 100 scale. The scale has five categories the total score. The categories do not appear to be equally weighted:
Webutation Reviews Anyone visiting the site can leave a review. The more reviews, the more accurate this should be. The site does not require login to leave a review, so it may be possible for dishonest site owners to leave multiple reviews.

Google Safe Browsing - Googles safe browsing utilizes it's own crawling software, normally used for indexing Google searches, to also index for malicious behaviours. Google's safe browsing does not give any type of score. It simply states the facts. Webutation uses an unknown weight for this metric.

Website Anti-virus

WOT (Web of Trust) - This utility offers configuration allowing users to enable parental controls, basic and light security settings are available for adults. WOT also offers a color blind version. It runs in Windows, Mac, and Linux. For Windows it has plugins for Internet Explorer, Firefox, Chrome, Opera, and Safari. For Mac it has plugins for Safari, Firefox, Chrome, and Opera. WOT is free for home users.

G Rated Child Safety
blog comments powered by
Learn to Make Strong Memorable Passwords Today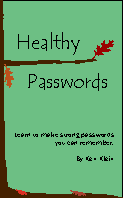 ISBN: 978-0615456850