.
How to Safely Post a Facebook Party Invitation
There have been news stories where thousands showed up for parties due to improper Facebook security settings. We've detailed simple step-by-step instructions on the proper way to send invitations using Facebook:
From the main facebook screen, select events then select Create an event.

Enter the date/time, and description. If you really want to be paranoid, be vague on the place and just say "my house" and leave the street address blank.

Uncheck "Anyone can view and RSVP (public event)". This means the box should NOT have a check mark. If you want to prevent guests from inviting their friends, also uncheck "Guest can invite Friends", which will display after you uncheck the first one.

Click on Select Guests, and the "Invite Friends" dialog will appear. Check the names you wish to invite. If you have others who do not use facebook, enter their email addresses in the invite by email field at the bottom.

Click on Save and Close to close the invite friends dialog.

Click on Create Event. to send the invitations. The event will appear.

Your guests will have an unread event. When they look at it, it will look like this:

They can click on Repond and the following dialog will appear:

They can include a message and then click on RSVP to respond.

After a friend accepts, you will see the following after clicking on the invitation.
The following steps were recorded on June 10, 2011. Keep in mind that Facebook regularly changes privacy settings, so please use common sense if your screen differs from these.
blog comments powered by
Learn to Make Strong Memorable Passwords Today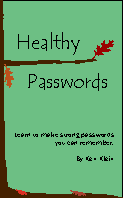 ISBN: 978-0615456850