.
Facebook User Credential Leaks
Symantec found a flaw in an older Facebook authentication module used by other websites. This module was used by other sites when you login to their site using your Facebook ID. According to Symantec, it is unlikely that any of these other sites were aware of the problem. If they were aware, they had access to much of the data in your Facebook account regardless of your privacy settings.
If you have been using Facebook to login to other sites, you should change your Facebook password.
blog comments powered by
Learn to Make Strong Memorable Passwords Today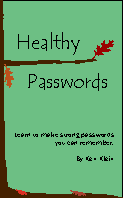 ISBN: 978-0615456850