.
Facebook Adds Application Passwords
Been holding off configuring Facebook Login Approvals because it locked you out of applications like jabber, skype or xbox?
If so, your wait is over. Facebook has implemented application passwords. These generate passwords that applications may use to access Facebook. These will not require 2-step verification. To enable, go to Account Settings, Security tab, and the "App Passwords" section. "You can generate a password that you won't need to remember, just enter it along with your email when logging into an application," Facebook said.
blog comments powered by
Learn to Make Strong Memorable Passwords Today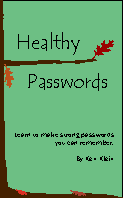 ISBN: 978-0615456850