.
WineHQ breach exposes contributor usernames and passwords
Date: 2011-10-12 10:08:51
WineHQ is a website supporting Wine. Wine lets user run Windows software on other operating systems. With Wine, users can install and run these applications just like they would in Windows.
According to thinq.co.uk, "This means that they have all of those emails, as well as the passwords," Jeremy White of project organiser CodeWeavers confirms in his mailing list post. "The passwords are stored encrypted, but with enough effort and depending on the quality of the password, they can be cracked.
This breach will impact a narrow band of technical users, who hopefully know better than to share usernames and passwords between sites.
Category: Breach
Subcategory: Passwords
blog comments powered by
Subscribe in a reader
Don't become a news story...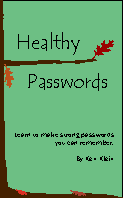 ISBN: 978-0615456850
Knowledge is the best home security.