.
UKChatterbox Users Urged to Change Passwords
Date: 2011-09-28 11:36:39
The popular UK chat site, UKChatterbox.co.uk , is urging users to change passwords.
The site reports:
The UKChatterbox website has recently been the target of several attacks intended to disrupt services, and as part of an ongoing security update, all UKChatterbox users are being asked to change their passwords as a precautionary measure.
UKChatterbox has not disclosed any breaches, but the mere fact they are suggesting the change, means you should treat your previous password as if a breach had occurred.
Change any other sites using the same password

Create a password unique to this site
Category: Breach
Subcategory: Website
blog comments powered by
Subscribe in a reader
Don't become a news story...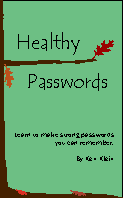 ISBN: 978-0615456850
Knowledge is the best home security.