.
A Big Risk with Online Email
Date: 2011-04-23 19:07:01
I just read a really good article by Jon Gunnells on the Observer and Eccentric about online security and passwords. The writer makes a very good point. If you use an online email for your userid at other websites, someone who compromises your email account can just go to any website and say they forgot their password. In most cases the site uses your email as positive authentication that you are who you say. Think about this a bit. Once they have your main email, they will see notices from many of the sites you use and know exactly where to go.
My main email account has always been a type that doesn't have web access by default. These are called POP or IMAP. Most people use this type of account for work, but most people use gmail, yahoo, or some other web mail provider for their main personal email account.
The same risk exists for pop or imap, but it's a lot less likely that someone will hijack these types of accounts. If your primary email is a web-based email service, and you routinely use that email as a login for other online accounts, you need to treat your email as the highest risk type of site. Use a very strong password and change it monthly.
Category: Email
Subcategory: Passwords
blog comments powered by
Subscribe in a reader
Don't become a news story...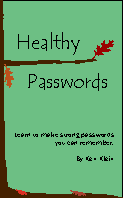 ISBN: 978-0615456850
Knowledge is the best home security.