.
Order and Chaos Online Hacked
Date: 2011-10-20 09:48:54

According to TouchArcade.com, online gaming site, Order and Chaos, has been hacked.
Users of all versions, including facebook and mobile, are reporting compromised accounts.
If you have ever used this site, or the Gameloft live service, and share passwords, change your passwords. Start with email and work back from there. As always, remember to follow healthy password rules
Category: Breach
Subcategory: Passwords
blog comments powered by
Subscribe in a reader
Don't become a news story...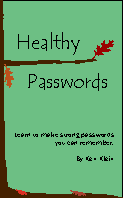 ISBN: 978-0615456850
Knowledge is the best home security.