.
Myjob.ie customers urged to change passwords
Date: 2011-09-09 10:10:46
According to RTE, Ireland's national public broadcaster, after two arrests this week, the website MyJobie.com emailed customers asking them to change their passwords. myJobie.com says their website was not the primary source of the breach.
If you are a Myjobie user and you share that password at other sites, change all shared passwords.
If your email password was used at the breached site, start by changing it first. Email is the first target, and holds the keys to many other sites.(See A Big Risk with Online Email.)
Category: Breach
Subcategory: Passwords
blog comments powered by
Subscribe in a reader
Don't become a news story...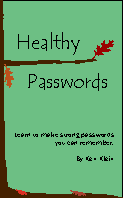 ISBN: 978-0615456850
Knowledge is the best home security.