.
Toshiba America Consumer Products Hacked
Date: 2011-07-18 11:31:58
According to the Wall Street Journal, the Toshiba America Consumer Products (TACP) website (tacp.com or tacp.toshiba.com) was hacked. Toshiba has notified customers, but they did not say if they notified affected customers or all customers.
The information stolen was registration information on over 7500 customers. According to a 4-traders.com release, "To date, TAIS's investigation has confirmed data theft of e-mail addresses and passwords affecting 681 customers." Toshiba reports no credit card or social security information was taken.
Category: Breach
Subcategory: Passwords
blog comments powered by
Subscribe in a reader
Don't become a news story...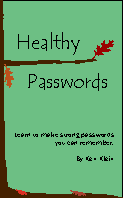 ISBN: 978-0615456850
Knowledge is the best home security.