.
Stevens Institute of Tech Hacked - Plain text user names and passwords compromised
Date: 2011-07-18 11:18:22
Acording to SecurityPro News, Last Thursday, the Stevens Institute of Technology was hacked by @p0keu. At least part of its database leaked on PasteBin containing 31 records with the full names of users, email addresses, and plain text passwords.
Category: Breach
Subcategory: Passwords
blog comments powered by
Subscribe in a reader
Don't become a news story...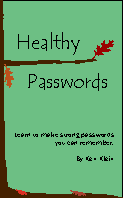 ISBN: 978-0615456850
Knowledge is the best home security.