.
SWGalaxies.net Breach Exposes 21 Thousand Plain Text Passwords
Date: 2011-08-30 21:41:42
According to Venturebeat.com, swgalaxies.net, a Star Wars Galaxies fan site, was hacked today. The hackers posted 21,000 plain text usernames and passwords.
If you've ever had an account there, or reuse passwords, it's time to change your passwords. For more password ideas, see Healthy Password Ideas for some good password ideas.
Category: Breach
Subcategory: Passwords
Subscribe in a reader
Don't become a news story...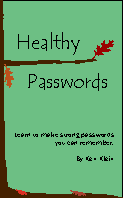 ISBN: 978-0615456850
Knowledge is the best home security.