.
Council on Government Ethics Laws COGEL.ORG Breached
Date: 2011-09-27 19:44:52
The council on Governmental Ethics Laws (cogel.org) was breached today. The entire drupal database was posted on pastebin today. We have not analyzed the database, but it is supposedly the entire sites content. If you have an ID at COGEL.ORG, change your password at any sites sharing the same password.
Category: Breach
Subcategory: Website
blog comments powered by
Subscribe in a reader
Don't become a news story...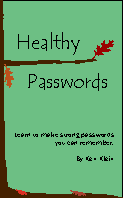 ISBN: 978-0615456850
Knowledge is the best home security.