.
LastPass Password Manager Review - Page 3
Browser Synchronization
If you work on multiple computers/browsers, such as your work laptop, your home pc, and maybe another home laptop or portable device, each browser you use, will have its own LastPass plug-in installed. Each will have it's own copy of the LastPass vault stored locally. You can use different browsers and they will still synchronize. Here's how it works.
You install LastPass for the first time on COMPUTER1's Internet Explorer browser. You go through the quick setup process, installing the plug-in and maybe restarting Internet explorer. You then login to www.TheSpringFieldTimes.com to post a response to a good article you read. When you login, last pass will prompt you asking if you want to remember this site?

If you select save site, it will save the site to the local vault on COMPUTER1. It will encrypt that and send a copy of your vault to Lastpass.com where their servers will salt and encrypt it a second time before storing.

Later that day you happen to be at work on COMPUTER2's FireFox browser and sneak onto www.TheSpringFieldTimes.com to see if anyone has commented on your comment. You decide to reply back to someone else, so you install the Lastpass plugin (premium users can use their ieanywhere if they cannot install software on their work computer) on your work computer. (Note: You only have to install the plug once per computer/browser). When installed you will login to LastPass and it will pull down your vault from the server and keep it on COMPUTER2. When you go to www.TheSpringFieldTimes.com's login page, LastPass will recognize the site and automatically log you in.

Let's pretend that by coincidence, www.TheSpringFieldTimes.com happened to require a password change when you are at work. You then change the password, and doing so, updates the LastPass vault on COMPUTER2. This vault then synchronizes with LastPass.com.

When you get home from work, you use your home laptop COMPUTER3's Chrome browser at the couch. Let's presume you've already installed the browser plug-in earlier. You decide to check www.TheSpringFieldTimes.com and go to login. The plug-in will pull down the updated password and automatically log you in.

Page 1      Page 2       Page 3       Page 4       Page 5       Page 6       Page 7       Comments     
Learn to Make Strong Memorable Passwords Today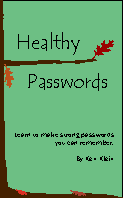 ISBN: 978-0615456850