.
LastPass Password Manager
Lastpass clearly has the most loyal following of bloggers and internet journalists. There are several current reviews for LastPass, so we are linking the most reputable reviews and highlighting any news (past or present) of security problems.
Lastpass has added support for Multi-Factor Authentication. PCMag.com has done a great job describing the options, so it's best to look at their review by clicking the link below. If you're not familiar with multi-factor Authentication, take a look at our explanation: Healthy Passwords teaches Multi-Factor Authentication.
Price: Free for Standard, $1 dollar per month for premium
OS Support: Windows Vista, Windows XP, Linux, Mac OS, Windows 7
Reviews
HealthyPasswords.com - 2011 Aug, 17
Reviewed by: Ken Klein
Rating: 5/5 (Highest)
Healthy Passwords Lastpass Review
"There is no easier way to remember your passwords on multiple computers and operating systems than by using LastPass. Lastpass is a good solution for people who regularly move between multiple computers and operating systems. It uses a browser plug-in to work with most popular web browsers on most operating systems. Data is replicated between a central LastPass vault and local workstation vaults enabling access to one password list no matter where you are."

PCMag.Com - 2011 Feb, 7
Reviewed By: Neil J. Rubenking
Rating: 5/5 (Highest)
PCMag Review Link
Reviewer Summary: "For a dollar a month you can upgrade your free LastPass subscription to premium. This gives you multi-factor authentication, support for mobile phones and other platforms, and some truly useful bonus applications."

CNET - 2011 November 29
Reviewed By: Seth Rosenblatt
Rating: NONE GIVEN
CNet Review Link
Reviewer Summary: "Effective, secure, and easy to use, LastPass offers a broad base of password-management features for free that can be expanded when upgrading to the premium version. It's an essential add-on for modern Web browsing."
News Events for Lastpass
blog comments powered by
Learn to Make Strong Memorable Passwords Today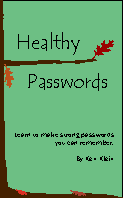 ISBN: 978-0615456850