.
Google Expands Two-Step Authentication to 40 Countries
Date: 2011-07-28 23:01:42
In an online security blog entry today, Google announced expansion of the two-step authentication program to more than 40 countries.
Google two-step verification is a form of multi-factor authentication. Multi-Factor Authentication not only requires a username and password, it also requires something you have or something you are. Googles offering uses voice or text phone messages. Impersonating a user without the device is not possible. Multi-factor devices include key chain tokens, voice or text phone messaging, USB devices, printed cipher grids, and biometric readers.
For step-by-step instructions on setting up two-step authentication, see Healthy_Passwords_How_To_Setup_Google_2-Step_verification.html
Category: Authentication
Subcategory: Passwords
blog comments powered by
Subscribe in a reader
Don't become a news story...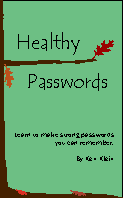 ISBN: 978-0615456850
Knowledge is the best home security.