.
Skype Virus Removal Hoax
Date: 2011-05-01 19:51:41
A new variation of the phone scam where someone calls to tell you you have a virus and they will fix it, may have come to skype. Instead of someone calling, it may be a pre-recorded message. The domain reported here was HelpHs.com, but this will probably change every few days. This Domains.com article explains it. You can also reference this Healthy Passwords Phone Virus Scams article.
Category: Hoaxes
Subcategory: Skype
blog comments powered by
Subscribe in a reader
Don't become a news story...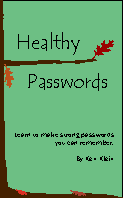 ISBN: 978-0615456850
Knowledge is the best home security.