.
Hackers Create their Own URL Shortening Service
Date: 2011-07-05 16:44:09
According to Symantec's May message labs report, For the First Time, Spammers established their own fake URL-shortening services. These services first use a commercial shortener to then link to their own shortener which finally points to a malicious site.
According to Symantec, once the user has arrived at the site, they will be bombarded with attacks probing for vulnerabilities.
We did a short experiment to see how bit.ly would react to a tinyurl. Bit.ly handled it well. Although, we suppose that an unknown URL shortner may not invoke a warning as our test did.
We used TinyUrl.com to create http://tinyurl.com/3bzuc8v from http://www.healthypasswords.com/

We then used bit.ly to create http://bit.ly/qSQEk1 from the tinyurl url.

We tried the second short url, which issued the following warning from bit.ly
Category: Internet
Subcategory: Phishing
blog comments powered by
Subscribe in a reader
Don't become a news story...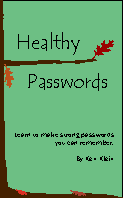 ISBN: 978-0615456850
Knowledge is the best home security.