.
A recent report by symantic reported that in 2010, 65% of the malicious URLs observed on social networks were shortened URLs. This is an alarming figure. Short URLs look something like http://tinyurl.com/3fcjezy . Crooks like to use these because you can't really tell where you are going. It is much safer to first convert them to the destination before going there.
More than just Passwords...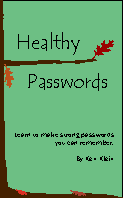 ISBN: 978-0615456850
Knowledge is the best home security.