.
One Password Your Family Can Embrace
Another password: Most people roll their eyes, take a deep breath and exhale. But wait, this one's different. A recent article from GardenCity.Patch.com reminded us that passwords don't have to be dreaded. The article was part IV of IV on back to school safety tips by the Garden City Police Department and recommends:
"Parents develop a secret password that only your family knows. Tell your kids that they should never go with anyone unless they know the secret password. Make sure to tell your children that they should never share this secret password with anyone."
This is one password that can be fun. Next time your driving somewhere or hit that quiet gap at dinner with everyone, brainstorm to create a good one. You may not use it for years, so be sure to pick something everyone will remember.
blog comments powered by
Learn to Make Strong Memorable Passwords Today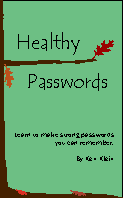 ISBN: 978-0615456850