.
How To Prevent Webcam Spying
According to theHackerNews.com, a previously patched 2008 flash exploit allowing predators to turn on your webcam is still vulnerable. When this was exposed in 2008, adobe promptly issued a patch. Recently a Stanford University computer science student, Feross Aboukhadije, found a new way to bypass the fix.
The best way to protect yourself is by using a low-tech hardware device such as painters tape or post-it notes to cover your camera until you want to use it.
blog comments powered by
Learn to Make Strong Memorable Passwords Today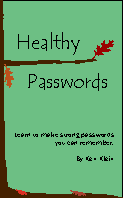 ISBN: 978-0615456850