.
Related Links
The Password Sandwich
Our book, Healthy Passwords, goes into great detail on this, so this will be a very brief explanation.
This is where you create a short ingredient list. Preferably, two weak ingredients (the bread), and one stronger ingredient (the main ingredient). You connect them with special characters (condiments).
The system part is how you assemble it. First, we recommend one piece of bread be a site code such as tcn for thecrimson.com. Second we recommend an expiration code for the other piece of bread such as q2 for expires second quarter. For the main ingredient we recommend mnemonics of short rhythmic phrases. Use a song you cannot get out of your head. (See See Password Ideas)
Putting it together, thecrimson becomes tcn@TbmShtr!q2 and TWITTER becomes twt@TbmShtr!m4 (Twitter expires every month presently at the end of April). You can write these all down using a shorthand on a simple wallet card using your own shorthand. We don't recommend using a single formula for all your sites, but can only explain so much in a short explanation.
blog comments powered by
Learn to Make Strong Memorable Passwords Today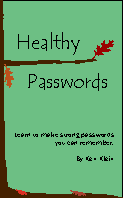 ISBN: 978-0615456850