.
Related Links
Why Are Passwords Important?
Stealing passwords for money is understandable, but why would anyone want your family pictures, birthdays or other information? Most people don't care about those things. But increasingly there are incidents where criminals "mine" personal data from sites solely for the purpose of planning a physical crime.
Sites like Facebook™ provide robust security settings. When your password is stolen, all of those settings are bypassed.
Passwords seem like a nuisance at many sites. Everyone understands their benefit at sites holding your financial data. The reason so many sites require passwords is to retrieve your settings. These may be insignificant items like the screen layout, colors, or the last time you posted information. It's how the site knows who you are. In technical terms the process is called authentication.
When account access is gained by breaking your password, the perpetrator is impersonating you. They may:
Purchase things using your saved checkout settings.

Look at details which are private.

Change details to embarrass or slander you.

Falsely broadcast messages to your co-workers, customers, friends and family.

Transfer funds from your accounts.

Download your personal documents and files.
blog comments powered by
Learn to Make Strong Memorable Passwords Today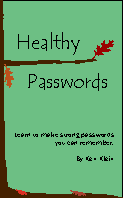 ISBN: 978-0615456850