.
Mobile APP Network Forum Hack Exposes 15000 User Accounts
Date: 2011-09-06 16:15:20
According to Hacker News, the Mobile App Network forum was hacked. The usernames and hashed passwords were shared on Pastebin in two parts. Part 1 | Part 2
If you have an account at the mappn.com, change your password.
Category: Breach
Subcategory: Passwords
blog comments powered by
Subscribe in a reader
Don't become a news story...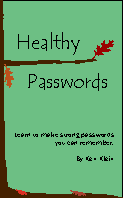 ISBN: 978-0615456850
Knowledge is the best home security.