.
LastPass Discloses Network Anomaly Advices Users to Change Passwords
Date: 2011-05-05 14:23:44
Today LastPass disclosed a "network anomaly" urging users to change their master password.
If you use Lastpass, be sure to change your master password immediately. Also, be sure to follow all the rules and make an incredibly strong new master password. If you have not yet signed up for their Multi-factor authentication device, do so immediately. This will make it nearly impossible to access your account without the hardware device.
Category: Breach
Subcategory: Passwords
blog comments powered by
Subscribe in a reader
Don't become a news story...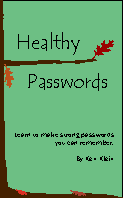 ISBN: 978-0615456850
Knowledge is the best home security.