.
Lastpass Offering Students Free Six Month Premium Service
Date: 2011-09-23 20:07:30
Lastpass just announced on their blog six month free premium use to University Students. For a limited time, students with a valid university email address can go to lastpass.com/edu to upgrade their LastPass account.
Full details can be found at http://blog.lastpass.com/2011/09/free-6-months-premium-for-all.html
Category: Authentication
Subcategory: Third-Party
blog comments powered by
Subscribe in a reader
Don't become a news story...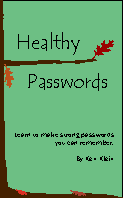 ISBN: 978-0615456850
Knowledge is the best home security.