.
Fire Someone Lately? Change Your Password!
Date: 2011-09-22 10:39:25
walyou.com details an individual with 50,000+ twitter followers who fired one his ghost writers. He did not change the Twitter password, and the fired ghost writer started tweeting embarrassing comments after having a few drinks.
Category: Vulnerability
Subcategory: Passwords
blog comments powered by
Subscribe in a reader
Don't become a news story...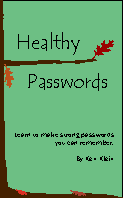 ISBN: 978-0615456850
Knowledge is the best home security.