.
Researchers Find Lastpass Vulnerbility on Chrome OS
Date: 2011-08-03 19:47:56
According to Information week, a White Hat team lead by Matt Johansen and application security specialist Kyle Osborn found a LastPass vulnerability on the new Google Chrome Operating System. This exploit allowed the researches to steal the local Crypto key and database for the users Lastpass netting all their userids and passwords. Once notified Lastpass changed application behavior making the exploit more difficult, but other exploits may still be possible. Read the full article at informationweek.com
Category: Exploits
Subcategory: Passwords
blog comments powered by
Subscribe in a reader
Don't become a news story...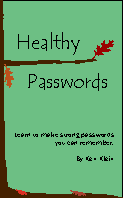 ISBN: 978-0615456850
Knowledge is the best home security.