.
Paypal allows multiple VIP tokens for account
When doing our Symantec PIP review, we installed Verisign VIP onto our cell phone. The first thing we used it for was PayPal. The setup was simple and it worked great.
When doing our Ironkey S200 review, we tried using IronKeys Verisign VIP soft token from the drive. We also went to PayPal and added the new key there. At that time, PayPal only allowed us to have one key enabled.
We happened to be making a donation to ShouldIChangeMyPassword.com today (If you use it and haven't donated, you should), and noticed that paypal now allows multiple tokens to be enabled.
Learn to Make Strong Memorable Passwords Today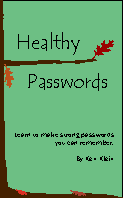 ISBN: 978-0615456850