.
Patch Tuesday Again
Date: 2011-09-14 09:28:37
Windows users need to remember to check that windows updates sometime over the next day or two. The number of updates varies by OS. Most users will see three or more updates available. One Windows 7, 64 bit system with office 2010 at our office, showed the following update notification:
Corporate users may not see update notifications. For more on how to update your Windows system, see http://www.healthypasswords.com/content.How_to_Check_Windows_Update.html .
Category: Patches
Subcategory: Microsoft
blog comments powered by
Subscribe in a reader
Don't become a news story...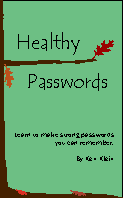 ISBN: 978-0615456850
Knowledge is the best home security.