.
Related Articles
Passmywill.com figures out when you die
Date: 2011-10-03 13:20:35
A new website from Russia, passmywill.com, will keep all your encrypted passwords and monitor your social networking feeds to figure out when you expire.
This Techcrunch Interview with founder, Danil Kozyatnikov gives more details on the service.
Any service offering to keep all your online credentials should be viewed skeptically. According to the interview, the site only keeps your encrypted data. But their website raises some security flags in our opinion. We briefly looked at the site and found a few warning signs.
The site does not use a secure connection, yet it's suggesting that users enter social security and credit card numbers.

The site suggest users use a social security number or credit card number as an encryption key. We didn't dig into the page to see if that data stayed local or went back to the server, but as a general rule, unless you are applying for credit you should never put your social security number into a web page.

The site asks you to save a plain text email body to send when you die and it again suggest using social security or credit card.
Category: Estate
Subcategory: Authentication
blog comments powered by
Subscribe in a reader
Don't become a news story...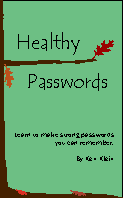 ISBN: 978-0615456850
Knowledge is the best home security.