.
Microsoft Patents Sketch Based Passwords
Date: 2011-09-21 09:44:04
Yesterday Microsoft was awarded patent United States Patent #8,024,775 for sketch based passwords. This patent had been applied for in 2008, Two years after first revealing their first incarnation of picture passwords.
According to the patent abstract, this patent covers: "A graphical password authentication method is based on sketches drawn by user. The method extracts a template edge orientation pattern from an initial sketch of the user and an input edge orientation pattern from an input sketch of the user, compares the similarity between the two edge orientation patterns, and makes an authentication decision based on the similarity."
This patent covers more than what has been revealed in the latest Windows 8 UMPC development. For more information on picture passwords, see Microsoft Improves Picture Passwords in Windows 8
Category: Authentication
Subcategory: Microsoft
blog comments powered by
Subscribe in a reader
Don't become a news story...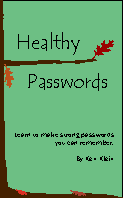 ISBN: 978-0615456850
Knowledge is the best home security.