.
How to Manage Linked In 3rd Party Applications
Every time you add a Linked In application, you give the maker long-term access to your information. On a regular basis, you should review your applications to remove extraneous applications.
To manage your LinkedIn apps, login to LinkedIn and go to the settings menu from LinkedIn.

Linked in has two options for managing applications. You can turn them all off with one button, or selectively manage them.

To turn everything off at once, selecting "Turn on / off data sharing with 3rd party applications". A small prompt will appear:

Uncheck or check the box and save.

To selectively turn things off, select "view your applications". The "Authorize Applications" screen will appear:

Check or uncheck applications to remove then click Remove.
Learn to Make Strong Memorable Passwords Today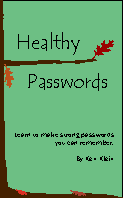 ISBN: 978-0615456850