.
Today is Patch Tuesday for Windows Users
Date: 2011-08-09 16:49:23
The second Tuesday of every month is when Microsoft sends security updates through Windows Update. Be sure to leave your computer on or see How to Check Windows Update" if you'd rather not wait.
To see the details behind these, Brian Krebs at KrebsonSecurity.com creates a nice summary anyone can understand. See it at http://krebsonsecurity.com/2011/08/22-reasons-to-patch-your-windows-pc/
Category: Patches
Subcategory: Microsoft
blog comments powered by
Subscribe in a reader
Don't become a news story...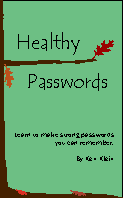 ISBN: 978-0615456850
Knowledge is the best home security.