.
Play Station Owners: Time to Change Your Passwords
Date: 2011-04-27 10:11:47
Between April 17th and April 19th, a network breach of the Sony Play Station Network occurred. According to Sony, this potentially impacts 77 million users.
If you own a Play Station, stop and think about this. Look up your Play Station username and password. If the password is the same as any other sites, immediately change the other site passwords. Start with your email accounts. If an intruder gets into your email, they can easily look at your past items to find the financial institutions, social networking, and shopping sites. They can then go to those other sites, reset your password, and then begin clearing your accounts.
According to the Sony Playstation.com website:

"Although we are still investigating the details of this incident, we believe that an unauthorized person has obtained the following information that you provided: name, address (city, state, zip), country, email address, birthdate, PlayStation Network/Qriocity password and login, and handle/PSN online ID. It is also possible that your profile data, including purchase history and billing address (city, state, zip), and your PlayStation Network/Qriocity password security answers may have been obtained."

Sources: http://us.playstation.com/support/answer/index.htm?a_id=2185
Category: Breach
Subcategory: Website
Subscribe in a reader
Don't become a news story...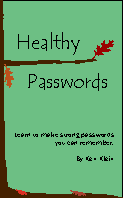 ISBN: 978-0615456850
Knowledge is the best home security.