.
Managing your browsers Form Data
Date: 2011-05-02 23:13:35
This article, Edit Your Browser's AutoFill or AutoComplete--and Protect Your Credit Cards from PCWorld.Com tells how to manually manage the saved form data. Saved form data is how websites automatically populate forms with previous entries. This data is not kept by the website, but is instead kept by your browser (Internet Explorer, AOL, Firefox, Chrome, Safari, or Opera).
This data leaves behind bits of data which can be used against you. It is convenient to have your browser recall addresses, phone numbers, cities, and states, but most people would rather not have their browser remember more sensitive information.
The PCWorld.com article will explain how to selectively remove form data for Firefox, Chrome, or Internet Explorer. If you use another browser, you'll have to dig through the help.
Everyone concerned about security should take a good look at this article and prune any sensitive information, such as credit card numbers, bank account numbers, cvv numbers, and social security numbers.
Keeping this information on your computer is asking for trouble. It may not be an eastern-bloc attacker that uses the information; it could just as easily be your kids ordering something you'd never allow.
Category: Internet
Subcategory: Passwords
Subscribe in a reader
Don't become a news story...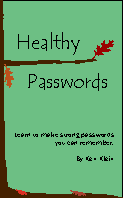 ISBN: 978-0615456850
Knowledge is the best home security.