.
Mac OSX Passwords Less Secure Than You Think
Date: 2011-07-28 20:48:52
According to the latest passware newsletter #058, their forensic version can read the OSX lion or Snow Leopard keychain from it's firewire port. This option is only available in their forensic version, which retails for $995.00.
The mac keychain saves passwords (for websites, network shares, wireless networks), private keys, certificates, etc.
According to Passware, the security risk is averted by turning off the computer instead of putting it to sleep, and disabling the "Automatic Login" setting. This way, passwords will not be present in memory and cannot be recovered.
How to Disable Auto Login
Go into system preferences by clicking on the system preferences icon from the bottom of the desktop.

If the small padlock icon is locked, unlock it by clicking on it then entering an administrator username and password.

Click on Login Options

Uncheck Automatically log in as. Be sure you know your password before doing this.
We have always found keychain to be annoying in safari. If you wish to disable it for Safari, follow these steps
Diable Keychain for Safari
Start or switch focus to Safari.

Select Preferences from the Safari menu. The Preferences dialog will appear.

Click on AutoFill

Disable all autofill options.

Click the red X to close the window.
Category: Authentication
Subcategory: Passwords
blog comments powered by
Subscribe in a reader
Don't become a news story...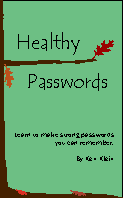 ISBN: 978-0615456850
Knowledge is the best home security.