.
Password Resets for OS X
Date: 2011-03-25 18:30:50
This article from cnet by Topher Kessler tells you several ways to reset a forgotten password in MAC OS X. If you are locked out of your mac, this cnet article is what you need. The article gives ways to reset from Firmware, installation DVD, or administrative account. A follow-up article was posted a few days later. It gives excellent added information on OS X security.
Category: OS-X
Subcategory: Passwords
Subscribe in a reader
Don't become a news story...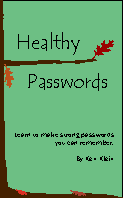 ISBN: 978-0615456850
Knowledge is the best home security.