.
Hackers Steal Secure Token Data
Date: 2011-03-18 20:16:31
Source - BBC - Hackers tackle secure ID tokens
This story from the BBC covers an data theft perpitrated by hackers against RSA, one of the formost vendors of secure tokens. The exact details of the theft have not been revealed by RSA, but RSA has issued "an open letter to RSA Customers" disclosing the incident. If you or your company uses RSA tokens, you should read the BBC article and RSA company letter.
Following is an excerpt from page 101/102 of Healthy Passwords about Secure tokens:
Category: Authentication
Subcategory: Tokens
Subscribe in a reader
Don't become a news story...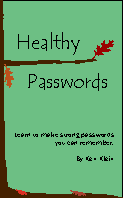 ISBN: 978-0615456850
Knowledge is the best home security.