.
Facebook Impersonation
Date: 2011-04-10 14:43:36
This story by WBNS TV shows a different kind of Facebook scam. In this case a separate fake Facebook account was created mimicking the real account. The fake account even included the person's image from their real account. Once the perpetrator had the account created they began sending friend requests to the real account holders existing friends. Friends accepted the requests and then began getting pleas for money.
The article isn't clear on how the attacker gained access to the photo or friends, but if a user does not set their Facebook profile to be private, it is not difficult to gather the necessary information.
Category: Hoaxes
Subcategory: Passwords
Subscribe in a reader
Don't become a news story...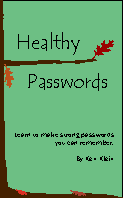 ISBN: 978-0615456850
Knowledge is the best home security.