.
Adobe Flash Security Advisory
Date: 2011-06-06 19:54:26
Every computer user needs to pay attention to this update. Nearly every computer has a copy of flash installed. Flash is is a required integral component used by many websites. Criminals know that most people don't update Flash on a timely basis, so they target any vulnerabilities as quickly as possible.
The easiest way to update flash is by using a third-party patching tool like Qualys Browser Check and/or Secunia PSI. Learn more at Healthy Passwords - Patching Popular Software Vulnerabilities . Here is the Adobe advisory issued 6/5/2011:
Category: Patches
Subcategory: Flash
blog comments powered by
Subscribe in a reader
Don't become a news story...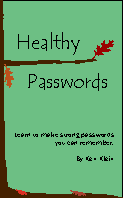 ISBN: 978-0615456850
Knowledge is the best home security.